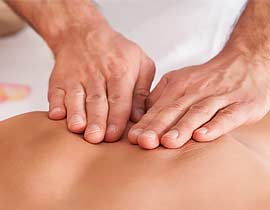 Do you have sore, aching muscles? Northern Hills Chiropractic offers Therapeutic Massage Therapy at our North Calgary Health and Wellness clinic!
Therapeutic Massage is a popular technique that is used by our certified massage therapists to reduce pain, alleviate stress, and to treat both chronic and acute conditions. Therapeutic Massage uses a combination of massage techniques to get your blood circulating, to relax and soothe sore muscles.
Therapeutic Massage is often recommended to help athletes of all calibers recover after a competitive sporting event or after an intense workout. At Northern Hills Chiropractic, Therapeutic Massage may be combined with chiropractic treatment, acupuncture, or one of our other wellness services to create a treatment plan that is best for your individual needs. Therapeutic Massage Therapy is performed by one of our registered massage therapists, in our North Calgary Wellness Clinic to address concerns such as:
Carpal Tunnel Syndrome
Headaches and Migraines
Osteoarthritis and Rheumatoid Arthritis
Muscle Spasms
Upper and Lower Back Pain
Sports Injuries
Tendonitis
Northern Hills Chiropractic has helped many people improve their quality of life with Therapeutic Massage therapy. In fact, our patients often experience benefits that extend beyond the physical state, many of which include:
Decreased Anxiety
Enhanced Sleep Quality
Increased Energy
Improved Concentration
Increased Circulation
Reduced Fatigue
Chronic and acute muscle tension, stress and injury often create bands of painful, rigid tissue called adhesion's in muscles, tendons, and ligaments. Muscle adhesions impact circulation, causing pain, limited mobility, and inflammation. Our North Calgary Massage Therapy clinic offers deep tissue massage, and therapeutic massage to manually break down these adhesion's in order to relieve your pain and restore normal movement and range of motion. We invite you to book an appointment for Therapeutic Massage Therapy at Northern Hills Chiropractic and allow us to help you relax as we massage away your stress and tension.
To learn how Therapeutic Massage Therapy can help you, please contact Northern Hills Chiropractic!
No referral is ever required to schedule an appointment
at Northern Hills Chiropractic.
---